Brit Rhythm Woman Women's fragrances by Burberry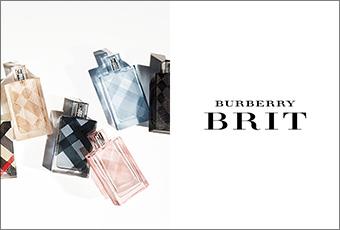 With Brit Rhythm Woman, the luxury brand Burberry wants to bring the typical English elegance into this world. The delicate, floral fragrance has a fresh intensity. The concept for this line was created with emphasis on a strong character. Burberry is associated with Brit chic like no other brand in the world. The brand, which was founded in 1856, is one of the most recognised luxury brands, which sells clothing for men and women and also offers a great selection of different fragrance collections. Like other women's fragrances of the brand, the new creation has been kept both consciously traditional and modern.
A new interpretation of English traditions
The clean Brit Rhythm Woman perfume is a welcome addition to the women's fragrances by Burberry. Despite its chic attitude, it has a very down-to-earth and clear effect. British understatement receives a whole new meaning with this line when the perfume's head note delights you first with fresh orange blossoms, then with vetiver and British lavender, and ultimately with warm musk. The stylish perfume is perfect for the evening, excellent for the office and always a great choice for everyday use!
Brit Rhythm Woman by Burberry