Sally Hansen
Together with her husband, Sally Hansen founded a small cosmetic company in New York in 1957, which …
Learn more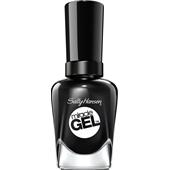 Sally HansenMiracle Gel Miracle Gel Nail Lacquer
BP: € 851.70* / 1000 ml
4/5 AggregateRating
Sally Hansen Makeup
Together with her husband, Sally Hansen founded a small cosmetic company in New York in 1957, which now numbers among the most important make-up providers, focusing mainly on nail polish. Her husband's experience as a chemist and her own creative ideas for beautiful fingernails soon made Sally Hansen a renowned brand, which did not go with the contemporary flow and instead constantly set its own trends. While care products were in the foreground in the early years, aesthetic nail make-up is increasingly being sold under the brand name nowadays. The combination of care and cosmetic makes all the products in our online shop a special choice as well.
Promote the beauty and health of all fingernails
The care products and cosmetics by Sally Hansen have been further developed for more than half a century, with new findings ensuring ever-improving treatment of women's nails. The quality brand's range extends from coloured and clear polish to nail polish remover, which gently removes the applied make-up. Other products make small cracks and damaged areas on the nail disappear as if by magic, to create a smooth and aesthetic surface for the application of coloured polish. Why don't you follow the trend as well and snap up Sally Hansen's attractive selection at inexpensive prices!