Fragrances of Miu Miu
Miu is a family business that was founded in Milan in 1913 by Mario Prada. The label only became a w…
Learn more!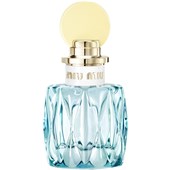 Miu MiuMiu MiuL'Eau BleueEau de Parfum Spray
BP: € 137,90* / 100 ml
Miu Miu Fragrances
Miu is a family business that was founded in Milan in 1913 by Mario Prada. The label only became a worldwide recognised brand, however, when granddaughter Miuccia Prada took over management of the firm in 1978 . She founded the Miu Miu label in 1992, having already helped to Prada label to cult status. Miu Miu is orientated towards a younger, female target group. One year later, her unconventional designs as well as the quality of the materials and workmanship were honoured with the distinction of the "Council of Fashion Designers of America". Miuccia Prada is still one of the most successful designers of today.