Haircare of Swiss Haircare
If there's anything the Swiss know about, it's perfection and precision. These two characteristics a…
Learn more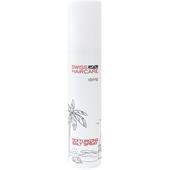 Swiss HaircareHair care Texturizing Salt Spray
€ 9.15
/ 200 ml
BP: € 45.75* / 1000 ml
Swiss Haircare Haircare
If there's anything the Swiss know about, it's perfection and precision. These two characteristics are also applied in the Swiss Haircare Series in the field of hair care and hairstyling. This product series offers exactly the right tool for volume, styling and healthy hold.
Everything for the hair
From the Repair Mask via the Conditioner to the Repair Conditioner - Swiss Haircare covers the entire gamut of hair care products. Gel and wax are also available for hairstyling. Shine and healthy hair are guaranteed with the series by the Swiss manufacturers. The professional care series is only used in selected studios and is now finding its way into the domestic bathroom. For perfect styling every day!