Urban Decay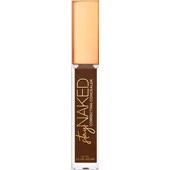 Urban DecayConcealer Stay Naked Correcting Concealer
BP: € 2,729.41* / 1 kg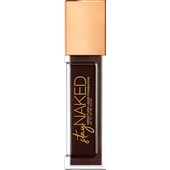 Urban DecayFoundation Stay Naked Weightless Liquid Foundation
€ 21.95
/ 30 ml
BP: € 731.67* / 1 l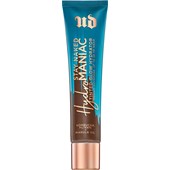 Urban DecayPrimer Hydromaniac Tinted Glow Hydrator
€ 23.28
/ 35 ml
BP: € 665.14* / 1 l
5/5 AggregateRating
Urban Decay – badass cosmetics from the USA
You can't miss Urban Decay cosmetics. Each item comes in attractive shapes and lush colours. Obviously, this calls attention to the items and makes them stand out from the crowd. Purple, bronze and black are the company's trademark colours. Urban Decay primarily focuses on looks that are edgy, but always high-quality.
Dive into a colourful world with Urban Decay
The Urban Decay founders Sandy Lerner and Wende Zomnir wanted to revolutionise the cosmetics market in the early 2000s – and they succeeded! The aim was to prioritise the use of bright colours, as colour selection was still rather monotonous and boring at the time. Fingernails weren't the only things to dazzle with colour. Make-up should also include eyeshadows in shimmering colours of the rainbow for those who love and appreciate make-up.
Urban Decay complexion: Although Urban Decay foundation comes in a variety of different shades, the primer and setting spray are always highly praised. Both components are not only ideal for applying make-up to the skin, but they also achieve a fabulous flawless look that leaves the skin looking immaculate. The make-up stays in place the whole day, does not slip or unpleasantly seep into the pores. For a sensational appearance from early morning until late evening.
Urban Decay eye make-up: When Urban Decay launch eyeshadow palettes, the excitement is always huge. The colour palette isn't the only thing that stands out; the pigmentation is also exceptional. Urban Decay eyeshadows are also known for their ability to blend perfectly.
Urban Decay lip make-up: Fabulous pigmentations in sheer or matte shades guarantee a fabulous array of colours. Dried lips or colours that seep into wrinkles, by contrast, pose no problem. The result – lips that are soft to the touch and put a smile on your face.
Buy Urban Decay cosmetics online at parfumdreams
Discover the range of Urban Decay products online at parfumdreams. It's the place to get to know the individual products and buy Urban Decay. For make-up designs that are not just innovative, but inspire and catch the eye.
Make-up doesn't have to be monotonous and boring – thanks to Urban Decay, you can achieve bold, eye-catching looks. The classic shades and out-of-the-ordinary colours mean you can create looks that are out of this world. Urban Decay has even chosen fitting names for its products. Moondust, Afterglow or Stoned create galactically beautiful moments.